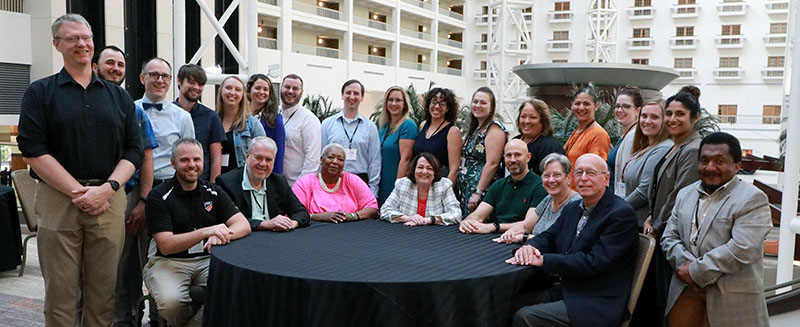 Helping current and future component leaders develop the skills for success
About the Training:
The aim of state and district leadership of our component associations (FBA, FOA, and FVA) is to provide excellent stewarding of existing music programs, as well as the championing of better opportunities for aspiring musicians. This requires leaders to be efficient organizers of persons, resources, and projects, in addition to being able to plan paths to fulfilling the vision of a better tomorrow for music education in Florida.
This professional development opportunity will provide communication training, team building, scenario-based problem-solving, technology, laws relating to music education, and other skills identified by participants as a need to find success as a leader in Florida.
Schedule Overview: (Subject to Change)
Sunday: Orientation will begin at 4:00 p.m., followed by dinner together and possibly an evening activity
Monday and Tuesday: Full days of sessions and activities, with social activities in the evenings. Meals provided.
Wednesday: Final session will be finished by 11:00 a.m.
More details will be forthcoming.
Click Here to Apply!
Photo: The 2022 Leadership Participants, Clinicians, and Staff
Quick Facts
Date and Location
July 16-19, 2023
Renaissance Orlando at SeaWorld
Orlando, Florida
Application Deadline
April 1, 2023 (entries a few days late may still be considered)
Limited Participation and Cost
Approximately 16 to 20 participants will be selected through an application process. Hotel expenses and meals will be covered by FSMA during the training.
In Partnership
The training is designed in partnership with the FSMA Component Organizations: Florida Bandmasters Association, Florida Orchestra Association, Florida Vocal Association.
Click Here to Apply!
Please Note:Because FSMA and it's component organizations FBA, FOA, and FVA work exclusively with secondary music teachers (grades 6 through 12), this program is not open to elementary school teachers. We highly recommend elementary teachers interested in this type of leadership training sign up for the FMEA Summer Institute instead.